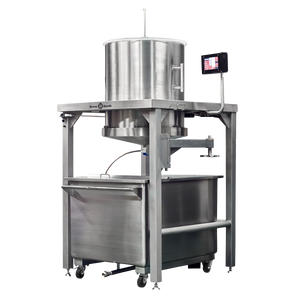 With a 100-gallon per batch and 300-gallon daily capacity*, the all new X-60 Brewer brings a new level of Cold Brew production to the market. The X-60's refined design is about efficiently brewing tasty cold brew on a commercial scale. And pairing the X-60 brewer with our exclusive pre-infusing loader and tipping waste bin delivers a complete, low labor, high ROI, production solution.
Learn more or Get a Quote today!
We love our X-60 Brew Bomb!
We've had our Brew Bomb here at Julian Coffee for around 3 Years now! It's helped us tremendously with doing Cold Brew production on a much larger scale, as our business continues to grow. We've Loved the difference in taste it has made to our Cold Brew, clean with no saturation. I would highly recommend if you're looking to scale your business!
It is really a Bomb having it !!
BrewBomb X-60 has deliver the quality and consistency of our Cold brew.
Great product and easy to use.
Love it
We have found the X-60 Brewer produces the best most consistent cold brew in an efficient time with a very high water to coffee yield. Love it!